Jane Thornton, BScKin '00, MSc '02, PhD '07
Jane Thornton, BScKin '00, MSc '02, PhD '07
Dr. Jane Thornton is a physician, researcher and internationally sought after speaker specializing in health innovation, medical education and advocacy for physical activity in the prevention and treatment of chronic disease.
Concurrent with her three academic degrees at Western, Thornton represented Canada for over a decade as a rower, becoming both a World Champion (2006) and Olympian (2008).
Returning from the Beijing Olympics, Thornton began medical school at the University of Toronto. Building on that experience through additional training in six different countries, she gained firsthand knowledge and insight from global leaders, placing her at the forefront of rethinking preventive healthcare delivery in Canada.
In 2018, Thornton launched My Active Ingredient, an initiative bringing together the very best minds and methods in the field of physical activity in medicine in a collaborative framework. MAI aims to give patients and physicians direct access to the most up-to-date information on physical activity for specific conditions.
Thornton is a lead contributor in an array of international collaborations including Medical and Scientific Expert for the International Olympic Committee's (IOC) Active Well-being Initiative as well as Scientific Committee Member for the 2020 IOC World Conference on Prevention of Injury & Illness in Sport. In 2018, she presented on tackling obesity and achieving healthy lifestyles at the OECD-hosted Forum on Digital Health and Partnerships. She also serves as Senior Associate Editor for the British Journal of Sports Medicine.
Thornton was placed in two prestigious fellowship programmes: the 2015/16 Action Canada Fellowship and the 2017 Governor General's Canadian Leadership Conference. She has received the AthletesCan Social Responsibility Award (2015), the Unnur Brown Leadership Award in Health Policy from the Schulich School of Medicine & Dentistry (2016) and the Murray Stalker Award from the College of Family Physicians of Canada (2018).
Jane Thornton, BScKin '00, MSc '02, PhD '07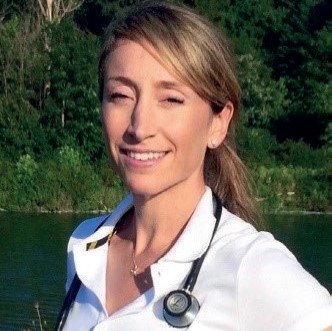 Sports and Exercise Medicine Physician, Fowler Kennedy Sport Medicine Clinic