Morrissette Institute for Entrepreneurship
2014 BCERC: A Gathering of Great Minds
Ivey hosts the Babson College Entrepreneurship Research Conference
You could call it speed dating for academics.
Researchers sat at long tables in Western University's majestic Great Hall. Each researcher had 10 minutes to present his or her work, with five minutes for discussion. A moderator with a stopwatch kept things moving on schedule. When 15 minutes elapsed, it was on to the next topic and the next researcher. "It was very useful to sit down with a handful of my colleagues and discuss my views with them," said one participant. "I got some good feedback, and I hope I was able to return that on their papers."
The "Interactive Papers" session was one of the unique features of the Babson College Entrepreneurship Research Conference (BCERC), held at Ivey in early June. The conference, which attracted over 300 professors and doctoral students from around the world, also included two and a half days of traditional conference sessions, a Doctoral Consortium Program, and a gala awards dinner complete with performers from Cirque Eloize, as well as many opportunities for informal interaction. Presentation topics ranged from high-tech and social media entrepreneurship to the impact of age, experience and gender and the challenges of family business succession.
The Babson Conference is considered the world's premier conference for academic research in entrepreneurship. "It started 34 years ago with the forefathers of entrepreneurship research and has continued to build on that momentum every year," says Dr. Andrew Zacharakis, Director of BCERC and the John H. Muller, Jr. Chair in Entrepreneurship at Babson College.
Zacharakis says one of the strengths of the conference is its international character. The conference is held at a different university every year. "We partner with high quality schools in North America and Europe," he says. "Typically 40 percent of the presenters are from outside North America when it's in the U.S. or Canada, and the reverse when it's held in Europe."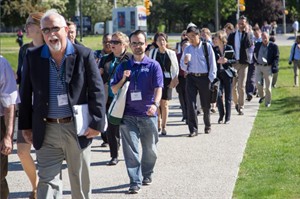 Planning for the conference begins years in advance, with universities vying for the privilege of hosting it. The call for papers is issued in July for the following year. Zacharakis counts on a core team of 12 exceptional reviewers, and several additional ad-hoc reviewers to thoroughly review and select papers for presentation. The results speak for themselves: many papers presented at BCERC go on to appear as articles in the top journals in the field.
Zacharakis says the Ivey conference was an unequivocal success. "The venue was perfect and the paper quality was very, very good. Everybody learned a lot and had an opportunity to build relationships with other researchers." Among the most important outputs of the BCERC are the collaborations that develop among researchers from different institutions.
Georgia Papavasiliou, manager of the conference and a long-time event planner at Babson College, agrees that the Ivey conference was exceptional. Papavasiliou has been handling the complex arrangements for BCERC since 2002, and has faced down many logistical challenges. But she says the Ivey event was "perfect."
"Everything went wonderfully at Ivey. The food and hotel were great, and Ivey staff members did a fantastic job of pulling everything together. And the building – you can't beat it, it's magnificent!"
One participant summed up the experience of the Ivey BCERC this way: "The conference had good energy. People are in a field that is hopeful and they're excited about their research. It's great to feel the energy."
Plans are well under way for the 35th anniversary BCERC, which will be held at Babson College in Massachusetts next June. For more information, check out http://www.babson.edu/Academics/centers/blank-center/bcerc/Pages/home.aspx