Morrissette Institute for Entrepreneurship
A-Line Orthopaedics takes the top spot at the MSK Innovation Competition
A new implant that can more effectively treat upper neck fractures by A-Line Orthopaedics won the $30,000 grand prize at the inaugural MSK Innovation Competition. The London based start-up company was co-founded by Dr. Parham Rasoulinejad (Spine Surgeon, BJI member) and Tim Lasswell (MASc).
The product, titled Edge Upper Cervical System (UCS), has already passed a number of important milestones, and the team is currently preparing a regulatory road map with the U.S. Food and Drug Administration (FDA) and Health Canada.
The competition final on May 3, 2019, at the Ivey Business School, included six teams, addressing a variety of musculoskeletal health issues; from "smart" implants that can detect infections during knee surgery, to neuromuscular training devices to improve neck strength to help reduce concussions in women's sports.
The 2019 MSK Innovation Competition was a collaborative venture between Western University's  Bone and Joint Institute and the Pierre L. Morrissette Institute for Entrepreneurship at Ivey, designed to encourage and cultivate entrepreneurial skills amongst London's community of musculoskeletal health researchers.
"We had terrific support from our local industry mentors and experts and look forward to more events that integrate our town and gown expertise,"  said Eric Morse, PhD., and Executive Director of the Morrissette Institute for Entrepreneurship.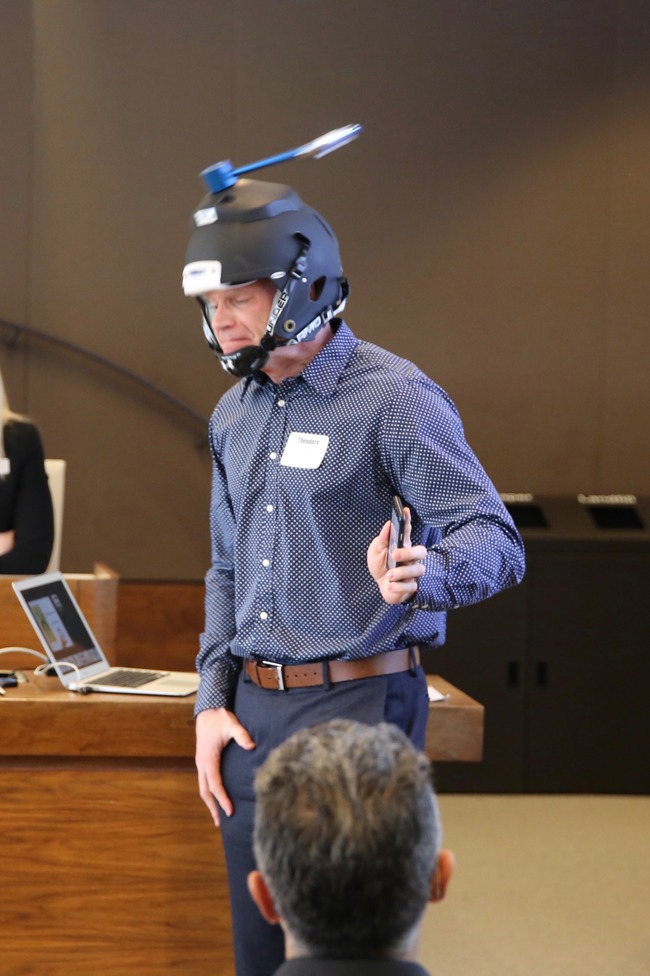 Above: Theo Versteegh of TopSpin360 demonstrates the first patented neuromuscular training device to improve static and dynamic neck strength in a manner consistent with the science on how to prevent concussion.