Each year, thousands of students gather at universities across Canada and the United States to take part in weekend-long hackathons. As coders, and aspiring entrepreneurs from every ilk, gather around chart paper, energy drinks, pizza, and sleeping bags, exciting things happen.
New ideas are born, start-ups are launched, and friendships are formed.
In mid-February, before the COVID-19 lockdown, a team of students from Western University and the University of Waterloo, won top prize at the Stanford's TreeHacks 2020 hackathon.
Their pitch was Neutral, a browser plugin that estimates the carbon footprint of Amazon purchases.
What seems like a simple click has a disproportionate impact on the environment; a problem further exacerbated by the revolution of one-day delivery. Every click, puts a cardboard box into motion, traveling hundreds of kilometres, till it arrives right on your doorstep.
With Neutral, users can not only see the environmental impact of their purchases, but off-set the costs by making a small contribution to organizations working in the environmental space.
The startup is currently led by Western's Cem Torun, HBA '21, Marissa Liu, and Kylie To, and Waterloo students Harry Zhang, and Jacky Liao. The team has recently expanded to include Ivey students Caitlyn Liu, HBA '22, Gloria Wu, HBA '21, and Sophia Yang from Queen's University.
Following their success, Neutral applied to and became a part of Mozilla's MVP Lab under its Fix-The-Internet Incubator, which is a program for companies working on sustainable solutions for web-related issues. Being part of the incubator has opened up a wide network of experts that have helped steer Neutral's product offering and strategy.
Additionally, Neutral has already caught the eye of popular business magazine, Fast Company, who profiled the company this August.
Changing consumer behaviour
Torun, who had joined the team a week after the Stanford experience, was no stranger to entrepreneurship.
From creating an ingame currency exchange on the popular video game FIFA while in middle-school, to launching a university-wide course discovery tool that's been adopted at multiple institutions, Torun had already stretched his creative muscles. 
What brought Cem and the rest of the team together on Neutral was a shared passion for sustainability, and solving the real problems created by a growing e-commerce industry.
While not all ideas survive outside the hackathon, the COVID-19 crisis gave Neutral an extra bit of motivation.
Part of the reason we decided to keep building this was we saw the impact amplified when COVID-19 (lockdown) started. Not only were we buying gadgets and technology off Amazon, we were also getting toilet paper, shampoo, and laundry detergent.
As they seek to address a more rampant form of online shopping, Neutral is pursuing a step-by-step process that focuses on harm reduction vs flat-out elimination.
The first step is to inform people. Neutral uses a number of data points it has gathered from carbon labels, open source information of emissions, calculations of price, weight and materials used, to get the best estimate of each item's environmental cost.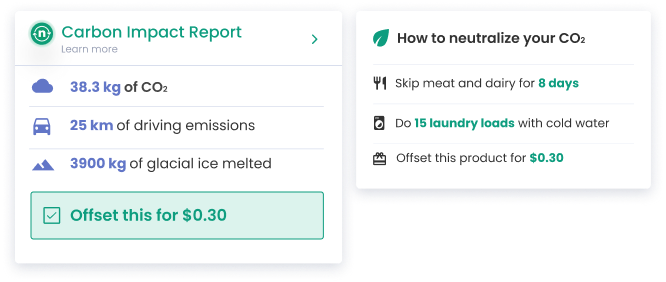 At first, it can be alarming, even overwhelming.
"If you see the emissions for a product is high, part of us wants you to think 'oh this is bad!'" said Torun.
But Neutral wants to move users from realizing the problem, towards finding a solution. Users can use the plug-in to offset the carbon costs with a donation, starting at 50 cents, to a non-governmental organization working in the environmental space. This is a simple and natural way to help consumers calculate another factor into their online purchases, similar to how we already process hidden taxes.
Lastly, Torun mentioned that they are developing means to introduce alternative options through Neutral, whether that is products created locally or those with a smaller carbon footprint.
Currently, the plug-in is designed to operate on Amazon websites in the United States, Canada, Australia and the United Kingdom.
As Amazon makes up more than 50% of the e-commerce market, it made the most sense for Neutral to start there.
"In an ideal world, you are probably not shopping on Amazon," said Torun, who balances his idealism with a healthy dose of realism.
But if people are going to buy something, they are going to buy it. Our mission is to direct them to more sustainable alternatives.
As Neutral completes their term in the Mozilla Incubator this fall, they are setting their sights on making the online shopping experience a greener one.