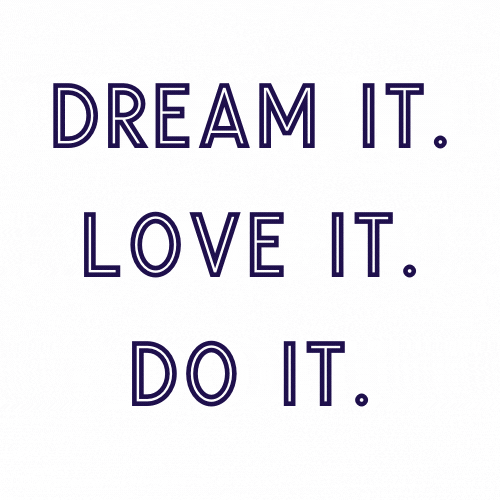 Calling all Goal Getters!⚡️
Why Join The Dream It Conference?
✅ You're ready to pursue your creative passions and make your entrepreneurial dreams a reality. 
✅ Learn to organize your early 'to-do's and achieve what you want in your creative endeavour. 
✅ Discover fun exercises that can help you dream up a business with a solid foundation.
✅ Connect with a community of like-minded creatives like you! 
⚡️BONUS: Gain exclusive access to a few (secret) prize-packed events held in November!


These (secret) events are only open to conference attendees.
The Sparknotes
Here's what you need to know...
Conference Runs: October 5-7, from 12:30 - 1:30 p.m. (each day) 
Registration Closes: October 3, at Noon. 
Format: In-person. 
Faculty: Open to all students at Western University & Affiliates. 
Cost: Free (you heard right - you can attend for FREE!) 
The Day-to-Day Conference Breakdown:
(here's what's on our schedule)
The Tools of the Trade:
Build The Business Of Your Dreams
Event Type: Hands-On Tutorial
Time Commitment: 12:30 - 1:30 p.m. 
Do you have a creative outlet or idea that you want to turn into a thriving endeavor? In this 60-minute session, we will be discussing how to create a plan for your business that will get you moving in the right direction. You will learn the basics of what entrepreneurship is and how to create a one-page plan for your business that will get you started off on the right foot so you can start building the business of your dreams!
Branding and Marketing your Creative Work and Business
Event Type: Tutorial
Time Commitment: 12:30 - 1:30 p.m. 
Are you wondering how to reach your customers or audience? In this 60-minute session, we will be discussing how to build a brand that will draw people to you. You'll learn how to determine who your ideal customer is, how to reach them, and how to communicate with them effectively. By the end of this session, you will know how to build a brand that appeals to your audience and how to organically reach your audience online.
Full-Time Creative: How I Turned My Passion into a Full-Time Gig
Event Type: Panel with Q&A
Time Commitment: 12:30 - 1:30 p.m. 
Join us for this engaging conversation with several creative entrepreneurs who decided to go all-in on their dreams! During this 60-minute fireside chat you will hear from successful alumni entrepreneurs about how they started their entrepreneurial journey and found success in their endeavors. Bring your questions for the interactive Q&A session at the end!
Isn't it about time you started pursuing your passion and benefiting from your creativity?
(why should you take the entrepreneurial leap 🕺💃)
💕 Life is short. You deserve to follow your joy (and make money while doing it). 
💭 When you follow your passion in life (slowly but surely), your dreams manifest into reality.
💪 It takes true strength to go after what you love. By starting a business, you'll learn a ton and develop your character.
Our Faculty Partners 
Important Registration Information.
This is an in-person, free event. When registering through Eventbrite, please select your faculty or affiliate college from the ticket options.  You will be provided with the event room location 48-hours prior to the event.
Note: Western plans to return to in-person classes and on-campus experiences starting September 2021. While we may not be able to predict with absolute certainty what the COVID-19 situation will be like in the fall, it is our hope that "The Dream It Conference" will be carried out safely on campus. This conference has the capability to be converted into a virtual format, if required.