Morrissette Institute for Entrepreneurship
2014 BCERC: Ivey Entrepreneurship on the World Stage
Ivey hosts the Babson College Entrepreneurship Research Conference
Professor Eric Morse remembers his arrival at Ivey 12 years ago. At the time, he was the only professor at the School dedicated full-time to teaching and research in the field of entrepreneurship.
Things changed rapidly, due to Morse's vision and the generosity of Pierre Morrissette, founder and Executive Chairman of Pelmorex Media Inc. Today, there are five full-time teacher-scholars associated with the Pierre L. Morissette Institute for Entrepreneurship and the Entrepreneurship Cross-enterprise Leadership Centre, and there will be six by fall, making it one of the largest Entrepreneurship faculties in North America. Ivey has developed innovative teaching and outreach programs and made a significant contribution to entrepreneurship research.
In early June, Morrissette, Morse and others had an opportunity to celebrate a coming-of-age of sorts, as Ivey hosted the Babson College Entrepreneurship Research Conference (BCERC). "We had big ambitions in terms of what we could do here at Ivey and what we could do for Canada and for entrepreneurs globally," says Morse. "The growth has been dramatic. Babson is a huge milestone and a clear recognition of the quality of research and researchers we have at Ivey."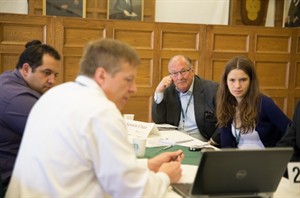 Morrissette, who has contributed $5 million to the Institute for Entrepreneurship since 2006, shares Morse's sense of achievement. "Attending the conference I felt proud of Ivey, Western and the Institute for what we have been doing over the past decade. This was an opportunity to showcase our progress to the entrepreneurship academic community from around the world."
Morrissette attended the conference from Thursday evening to Saturday morning, sitting in on several paper presentations. He was impressed by the diversity of subject matter and the quality and depth of the research, as well as the smooth operation of the conference itself.
Morrissette points out that entrepreneurship is the engine of growth for most economies. "Creating more successful entrepreneurs through education and the transfer of intellectual capital is a tremendous value-add for our communities," he says. "These academics are the creators of that intellectual capital, and any research activity in this area is a tremendous investment in future economic growth."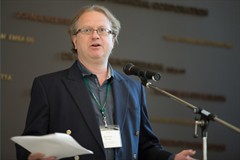 Professor Simon Parker, Director of Ivey's Entrepreneurship Cross-Enterprise Leadership Centre and Co-Director of the 2014 BCERC, was delighted with the event. "Entrepreneurship research is something that we do very well," he says. "And we are very interested in turning our research findings into useful advice for entrepreneurs and policy makers." Hosting the BCERC, he says, helped raise Ivey's profile internationally. "The conference gave us an opportunity to showcase all that we have on offer here at Ivey, to attract future faculty members and doctoral students, and to highlight our case writing and outreach activities. It provided a window into what we do for the outside world, and an invitation to come and join us."