Team Zostel was represented at Ivey by Paavan Nanda and Akhil Malik, who travelled 12,000 km to become the first non-North American team to participate and subsequently, win Canada's premiere MBA Business Plan Competition.
The effort to raise money for flights, food and lodging to travel 12,000 kilometres for the 16th Annual IBK Capital – Ivey Business Plan Competition paid off in a big way for a team from Calcutta, India.
Representatives from Team Zostel from the Indian Institute of Management – Calcutta (IIM – Calcutta) went home $20,000 richer after winning the competition at Ivey Business School, which ran January 24-25. They'll also go on to compete in the 2014 Global Venture Labs Investment Competition in Texas in May.
Their idea for a hostel offering amenities such as air-conditioning, access to power and Wi-Fi to India's burgeoning backpacker and tourist industry earned the most praise from judges of the 12 team entries.
The IBK Capital – Ivey Business Plan Competition brings together some of the best MBA entrepreneurship teams in Canada and the U.S. Team Zostel was the first non-North American team to participate. The event also involved two teams from Ivey Business School and teams from University of Louisville, University of Arkansas, University of Manitoba and York University.
Although Team Zostel representatives, Paavan Nanda and Akhil Malik, had never experienced temperatures lower than -2° Celsius, they gladly braved Canada's winter weather for the chance to compete.
"It was one of the most hostile weather conditions we have experienced, but we really wanted to leave our mark on this event," said Malik. "Having an opportunity to test the waters in foreign territory and presenting it in front of a highly experienced and neutral audience was a strong enough motivation to fly down to -20° Celsius weather."
But they said they worried how their idea would be received compared to others presented, which ranged from wrist band devices that improve motor skills in patients with neuropathic disorders to pro-active wheel skid detectors for semi-trailers.
"Unlike other teams that had super cool medical, biotech and eco-friendly technology, our product wasn't something that would give the judges an 'aha moment'," said Nanda. "Entrepreneurs in North America are trying to push the ceiling higher by introducing path-breaking technologies to make lives easier and better. In India, we are still getting the basics right and trying to get a robust system in place."
Nanda said one aspect that worked in their favour was that the weak currency in India will allow $20,000 to go farther.
The team intends to use its winnings to settle some loans and invest in another hostel. Zostel already operates hostels in Jodhpur and Jaipur.
However, Nanda said the experience gained from the competition was an even more valuable takeaway.
"Starting as underdogs and finally emerging as winners, our win at Ivey has taught us things that will prove more useful than the cash prize when we are going through our ups and downs with Zostel," he said.
The IBK Capital – Ivey Business Plan Competition is supported by IBK Capital Corp. founded by Bill White, MBA '69, and currently led by Michael White, MBA '00.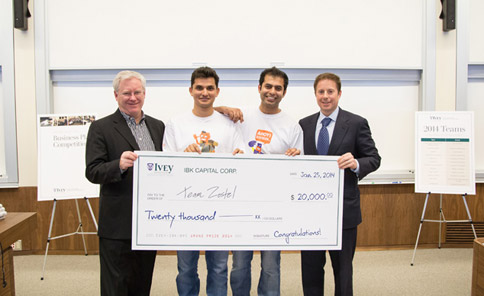 Team Zostel with the winners' cheque alongside Ivey's Dean Bob Kennedy (far left) and Michael White (far right), CEO of IBK Capital Corp.