Ryan Ward-Williams, HBA '15, has a very specific skill. "You give me anyone's name and I'll find their e-mail in five minutes," said Ward-Williams. It's a skill that put him in touch with Cici Bussey, business liaison to one of America's most famous families, the Kardashians.
After his initial contact with Bussey, Ward-Williams was introduced to Kris Jenner, the "Momager" and head of the Kardashian family. After working on a slew of successful test projects, including a website for Jenner Communications, they formed a strong business relationship, which opened up new opportunities to work with other members of the family.
Despite only graduating last spring, Ward-Williams has been heading a digital branding company, ultrabrand.com, since 2010. His entrepreneurial initiative and balancing act was recognized with the 2015 Paul Sabourin Award in Entrepreneurship, which is awarded to a full-time HBA student who personifies the spirit, passion and drive necessary to become a successful entrepreneur.
"Students don't realize how big of an entrepreneurship school Ivey is. If you have an idea and you think you can run with it, there are so many resources at Ivey and people you can talk to that can help get your idea off the ground." He lauds Ivey's alumni network as one of the best resources the School has to offer. "We have an amazing network of alum entrepreneurs, owners and business executives who in my experience have been so helpful."
Not a typical Monday morning
With every member of the family working to enhance his and her personal brand, Ward-Williams was connected with Kylie Jenner, the youngest daughter of Caitlyn Jenner and Kris Jenner, who was developing a lip kit for launch on Cyber Monday. He couldn't pass up on a project of such magnitude and with so many moving parts, Ward-Williams was flown down to Los Angeles for the launch.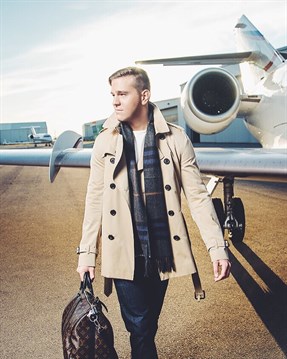 With over 44+ million followers across all of Kylie Jenner's social media accounts, Ward-Williams and the team had to build a back end to support the heavy internet traffic. They were turned down at the office of GoDaddy.com, who didn't feel confident of handling the traffic. They were referred to Media Temple, a boutique hosting company that hosts celebrities such as Beyoncé and Donald Trump, who eventually built servers to support 3.6 million hits an hour. "If you are not Google, that is a pretty big deal," said Ward-Williams.
 Kylie Jenner announced her lip kit via social media at 9 a.m. on Cyber Monday. As Ward-Williams and the team sat around a boardroom watching the numbers go berserk, the site went down. They couldn't even access their inventory and posted a 'technical difficulties' page to quell agitated fans. Once the page was back online, they discovered that they had sold out at 9:09 a.m., and gathered half-a-million unique visits in the first hour; 5.5 million in the first 12 hours.
Ward-Williams continues to work on a number of projects with the family, operating like a personal director of the family's online presence. His team outdid their Cyber Monday record a few weeks later, selling off the second batch of lip kits in seven minutes and are preparing for a third round. He recently helped launch a website for Rob Kardashian's sock line, Arthur George.

Working with the family, Ward-Williams has fostered a new respect for what they put into their brand day in and day out. "Yes, they are on a reality TV show and it's meant to be entertaining, but behind all of that is a huge empire. "They are business people in their own right. It's not investment banking but everything they do is a business move. They are always working 24/7 and are all involved in what they do," said Ward-Williams.
Balancing Ivey & Ultrabrand
During a high school Commtech class, Ward-Williams discovered his passion for web design and soon began outpacing the class. He had the opportunity to test his skills by redesigning his uncle's bed and breakfast website. His work caught the eye of BBCanada.com and he was hired as the company's full-time web developer at age 17. He used the experience to leverage his next project and jumped from one industry to another. Today, many of Ultrabrand's clients come from the medical industry, including plastic surgeons and 'elite' doctors.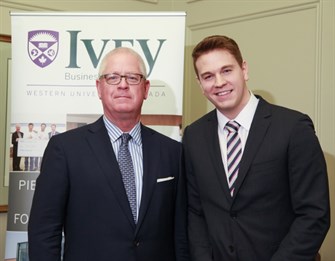 Having sat in on an Ivey class, Ward-Williams fell in love with the case-study method but his first application was denied. After revamping his grades, he was accepted to the HBA Program and had to balance his case classes and 48-hour reports with Ultrabrand.com
The balancing act was difficult and there were trade-offs. At one point, he wanted to quit the program but for the support and advice of his section head.
"I started to relate the classes with the clients I was working with. It made sense. I tied what I was learning to what I was doing and it was a great combination," said Ward-Williams.
The education at Ivey helped Ward-Williams differentiate himself from the rest of the pack.
"If you wanted to, you could boil down what I do to just being a web designer. Having the design capability is one aspect of it, but being able to pair design with a business case and actually knowing what the business does, why they need to be represented in a certain way online, who are their customers and who's going to be looking them up online - is something you don't really get if you don't have a really good business education."