Morrissette Institute for Entrepreneurship
2017 Spin Master - Ivey HBA Business Plan Competition
Team Iris Technologies from Queen's University won $15,000 and first place at the inaugural Spin Master – Ivey HBA Business Plan Competition, held January 20-21, 2017. Ivey's first undergraduate business plan competition was sponsored by Spin Master Ltd. and the Pierre L. Morrissette Institute for Entrepreneurship.
Iris Technologies is developing a computer monitor that does not trigger computer intolerance in concussion patients. Stimuli from computers, such as light and noise, can often trigger concussion symptoms. The team was represented by Colin Harding and Conor Ross.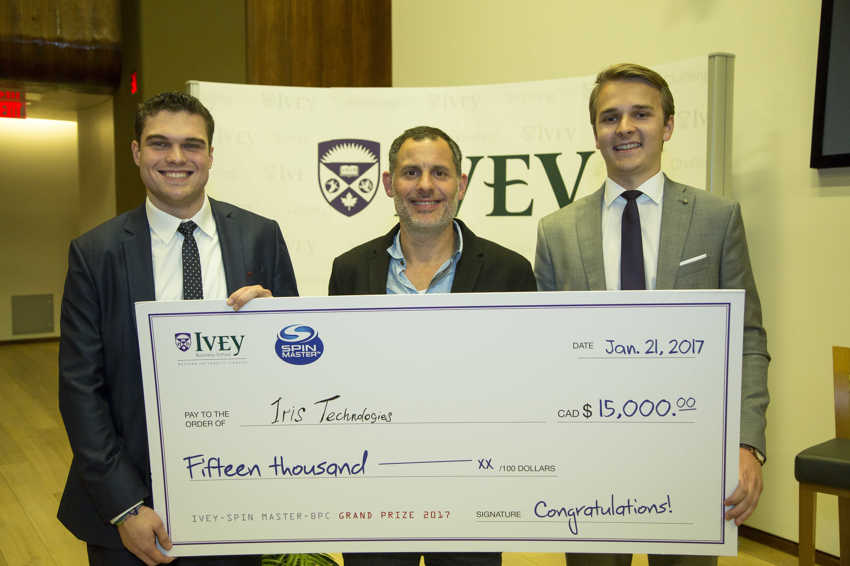 The grand finals also included Team u.buk from Western University and Team Beatcamp from Ivey Business School. Team Beatcamp won the second-place prize of $4,000 for its plan to develop an online marketplace for music beats connecting recording artists and music producers. Team members included Ayush Vaida, Pei Li, and Richard Yang. Team u.buk won the third-place prize of $1,000 for its business plan on an online system to improve the efficiency of Ontario's health-care clinics. Team members include Erica Yarmol-Matusiak, Clara Mustata, Andrew Liu, and Kayla Pandza. 
The nine-team competition included representatives from Queen's University, Western University, and the Ivey Business School.
The event included two workshops highlighting the challenges faced by Canadian entrepreneurs in developing global brands. One workshop was led by Albert Behr from Behr & Associates, and the other featured MaRS Discovery District, comprised of Nathan Monk, HBA '03; Michelle Peng Greenberg, HBA '08; and Kevin Taylor.
Anton Rabie, HBA '94, of Spin Master Ltd., also shared highlights from his entrepreneurial journey during a fireside chat with Ivey Professor Eric Morse, Executive Director of the Pierre L. Morrissette Institute for Entrepreneurship. Rabie discussed how three undergraduate students from Ivey and Western University formed one of the largest, most innovative toy companies in the world.
The Spin Master – Ivey HBA Business Plan Competition had a panel of esteemed judges including:
Colin McDougall, MBA '06 – Vanguard Golf
Grant Fraser, MBA '91 - Golf Management Institute of Canada
Bruce Lamb, HBA '85 - Avalanche Search Marketing Inc.
Manosij Majumdar, MBA '16 - Pre-Business Faculty
Mark Mauleesan, MBA '16 - Mauleesan Inc.
Eric Martin, HBA '85 - eVideo Solutions Inc.
Nathan Monk, HBA '03 - MaRS Discovery District
Cato Pastoll, HBA '14 - Lending Loop
Anton Rabie, HBA '94 - Spin Master Ltd.
Darren Rabie, HBA '96 - Focus America
Megan O'Neil-Renaud - Pillar Nonprofit Network
David Wright, HBA '83 - Agora Consulting Partners
Jenny Hui, MBA '07 - Clausehound Inc.
Kevin Taylor – MaRS Discovery District
Michelle Peng Greenberg, HBA '08 – MaRS Discovery District