Morrissette Institute for Entrepreneurship
Ian Haase, MBA '10 - Getting back on the saddle with Motif
Shanthal Perera
|
Nov 28, 2018
For eight years, Ian Haase, MBA '10, had the best of both worlds. He had the excitement of engaging with young entrepreneurs on a daily basis, with the added bonus of having a secure job. So what inspired Haase to get back in the saddle with a cannabis company named Motif?
It was just another day in the office for Haase as he sat down to listen to teams of applicants pitch for the Western Accelerator Program. Pitch day is a ritual he has participated in for the past eight years, both with TechAlliance, SouthWestern Ontario's Regional Innovation Centre, as well as Western University's Propel Entrepreneurship Centre.
With the impending legalization of recreational cannabis, Motif was another company seeking to score big in the burgeoning market. Haase was impressed with the Founding team and their passion and thought the unique business model had merit. After a few months of advising and working closely with the venture in a mentorship capacity, Haase decided to make the leap to join Motif fulltime in 2018.
Motif's unique play
In what could be termed as a modern gold rush, the recent legalization of cannabis in Canada has attracted entrepreneurs, investors, and big business eager to stake a claim on the new market.
Motif co-founder Mario Naric, B.E.Sc '15, was working at Imperial Oil when a confluence of circumstances helped him take note of a unique opportunity within the industry. One that aligned perfectly with his existing skill set as a chemical (process) engineer.
With legalization, Health Canada set up a number of licenses to regulate the industry, such as cultivation, processing and retail licenses.  Motif is one of the few Health Canada applicants for a standard processing license.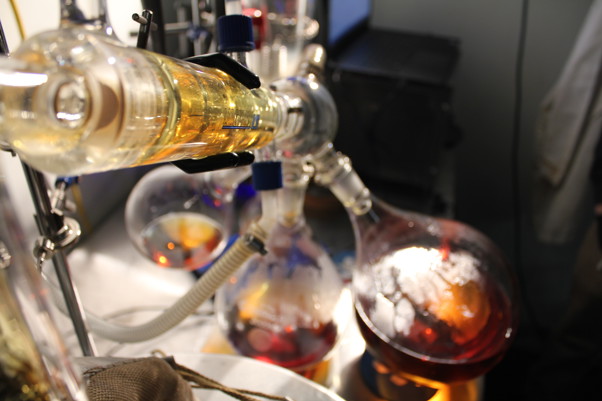 "We noticed that the first hundred licenses to be granted were almost entirely for cultivation, as that is the starting point to enter the industry," said Haase. By obtaining a processing license that will focus on the extraction of oil from cannabis/hemp, Motif can tap into the consumer demand that is moving away from the actual flower, according to Haase.
"A lot of people interested in using cannabis don't want to start smoking, it's not very discreet, there is limited dose control, and there's a very narrow range of end products."
Extracting cannabis oil is a difficult and complex process. With significant capital costs, a lack of skilled extraction experts, and additional government licensing timelines, Haase feels that most companies concentrating on cultivation are a prime target for outsourcing their extraction services to companies like Motif.
"Our model exists to make their lives easier. We have the equipment and process dialled in, and maintaining high utilization rates will ensure that we are able to extract oil from cannabis/hemp cheaper than the cultivators could achieve with an in-house solution."
Taking a second dip
Haase first heard Motif's pitch in 2017 for the Western Accelerator, while the team was working as part of the LEAF Forward program, a cannabis accelerator in Toronto. While Motif didn't make it into the Western Accelerator at the time, something about the business model, and the passion and drive of Naric got Haase's attention.
His first foray into entrepreneurship was through a tech startup in 2003, stemming from his MSc research at McGill University on infectious disease transmission. Upon landing his first paying customer before graduating, Haase considered it an easy entry into the world of entrepreneurship.
"I learned a ton, but I was a scientist and made a lot of mistakes," said Haase. With the 2008 financial crisis, the company had an abrupt ending.
That never stood right with Haase and there was always a feeling of 'unfinished business,' and that feeling manifested itself when Haase turned 40 this year.
"My version of a midlife crisis isn't a sports car, its jumping back into another startup… it has been almost 10 years since I was in this world and it just felt like the right time (to get back in)."
And this time around, he feels much more prepared. With a formal education in business with his Ivey MBA, and eight years spent mentoring hundreds of business ventures across multiple industries, Haase has amassed his own library of real-world cases.
"The only entrepreneurial experience I had was from the school of hard knocks. Realizing that there is an academic side to this, and some of these things can be learned, was really helpful," said Haase. He also embraced Ivey's case study method and used similar methods to assist every startup he encountered at TechAlliance and Western's Propel Entrepreneurship Centre.
"Every startup is like a new case. They each come with unique challenges and skill gaps."
With all that going for him, Haase feels obligated to act on the advice he has been giving students and young entrepreneurs for years.
"I think if you operate in this world you have to walk the walk.  I have been mentoring so many young people, encouraging them to pursue their passion while they are young.  It feels like the right time to step back into the startup world and lead by example.  I'm still in touch with so many startups and aspiring entrepreneurs, and I still find that to be such an empowering and fulfilling experience to help them on their own journey."

Challenges and opportunities in a burgeoning industry
As Haase and Naric wait on the approval of their license, Haase sees government regulation as one of the biggest challenges remaining for Motif. There's still a lot of uncertainty and lack of clarity on how things will shape up for the industry, especially with respect to licensing timelines.
For example, despite the recent legalization, businesses in the cannabis industry struggle to access traditional financing for equipment through major banks or lending agencies.
Secondly, there's still a challenge of the negative stigma surrounding cannabis, although that sentiment is changing rapidly.
Perhaps the largest challenge of all is the incredible hype surrounding the industry, as it seems everyone is trying to launch or invest into a cannabis venture.
"Everything is overinflated. Trying to build a real company and raise capital in that environment can be very difficult. We can't use any data out there to value our progress, because it's so speculative," said Haase.
Motif's road ahead
The team is hoping to receive Motif's production license in the summer of 2019.  With the legalization of concentrated products (for the recreational market) nearly a year away, he feels the company has plenty of runway to prepare themselves.
During the next few months, Haase and Naric will be raising capital to purchase equipment and build out their facility in Aylmer, Ontario. They will also be signing up licensed cultivators for oil processing services.  Thinking ahead, their facility will be GMP or Good Manufacturing Practice, compliant, which meets the global standard, allowing Motif products to travel beyond the Canadian border as new markets open up.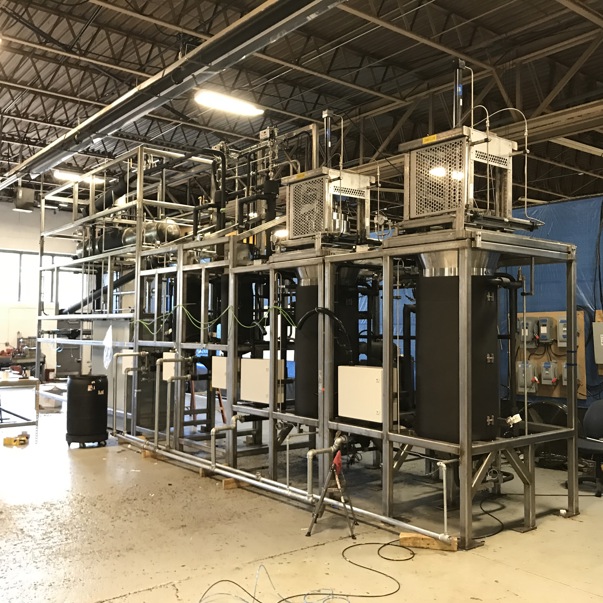 Haase is also hoping to start hiring early next year as they build-out their team.
Additionally, Motif is looking to invest heavily in R&D, citing the unique research opportunity they have with Canada being the first G7 country to legalize cannabis.
Making use of the government funding available, Motif is working with Lambton College, Fanshawe College and the University of Guelph to unlock intellectual property in improving extraction efficiency, vaporizer hardware, as well as the process of emulsifying cannabinoid oils for specific products. They are also discussing research potential for an additional project with Western University.
In an industry that is going to commoditize, margins will get smaller and the presence of in-house IP will give Motif a sustainable, competitive advantage, according to Haase.
As they continue on their journey, Haase is the first to admit that there's no recipe book for success as an entrepreneur.
"It's such a combination of timing, team, execution, and other factors."
Trying to predict who makes it and who doesn't is a humbling job and Haase knows that better than most. If passion and experience are any indicators, Motif seems well positioned to beat the odds.