Morrissette Institute for Entrepreneurship
BRITE Bites from Michigan State University wins Ivey HBA Business Plan Competition
BRITE bites from Michigan State University won $15,000 at the 3rd  Ivey HBA Business Plan Competition.
BRITE bites is an all-natural probiotic snack company headed by Bri Makaric, which currently offers three flavors of bites packed with superfoods and a probiotic that contains 1 billion CFUs (colony-forming unit) to support digestive and immune systems.
The second and third place prizes were awarded to Vascugenix from the University of Arkansas at Little Rock, and STMT.
Vascugenix is a vascular device company founded on the development of new clinical technologies to optimize vascular procedures and to improve clinical outcomes. STMNT is a social enterprise tackling the negative impact of fast fashion, with a clothing rental start-up led by sisters, Jenessa Olson, MSc'18, and Madison Olson, from Ivey and Brescia University College, respectively.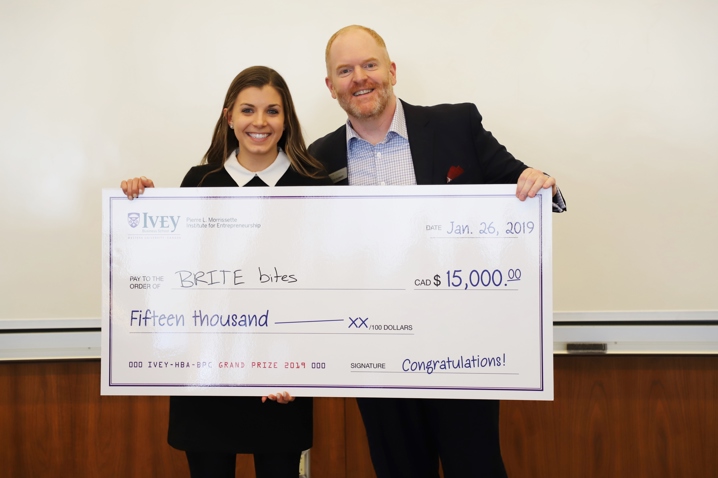 Furthermore, Yad from Babson College won the Pembroke Management Prize in Social Enterprise. Yad aims to empower people with intellectual disabilities by allowing them to express themselves through art and profit from their work, which Yad manufactures into unique home decor products.
The undergraduate Competition included nine teams representing Babson College, Johns Hopkins University, Michigan State University, the University of Arkansas at Little Rock and Western University.
The two-day competition weekend included workshops by Albert Behr of Behr Technologies Inc., Lucas Monzani, Assistant Professor in Organizational Behaviour as well as a fireside chat with David Simpson, MBA '88 and Adam Noyek, HBA '10 of MedReleaf Canada.