Morrissette Institute for Entrepreneurship
Iowa State University Team takes top prize at Graduate Business Plan Competition
Team HomePainters from Iowa State won the 21st edition of the graduate competition, securing $15,000 for their online platform that enables homeowners to get fast and accurate paint estimates from the comfort of their couch.
Homeowners can book their job online with HomePainter, which then subcontracts the order to vetted and registered painters in the area. With the aid of technology, HomePainter is hoping to reinvent the subcontracting model to become more scalable and profitable. The team consisted of Jacob McClarnon and Anthony House.
The second and third place prizes were awarded to Turbodega from McGill University and Shroud from the Ivey Business School, Western University, respectively. Turbodega is a digital ecosystem that aims to improve the competitiveness of bodegas in emerging countries through access to competitive prices, credits, product delivery, and business support. Shroud is developing an interchangeable mouthpiece that contains a filtering agent that will either mask or strip the odour of cannabis as the user inhales.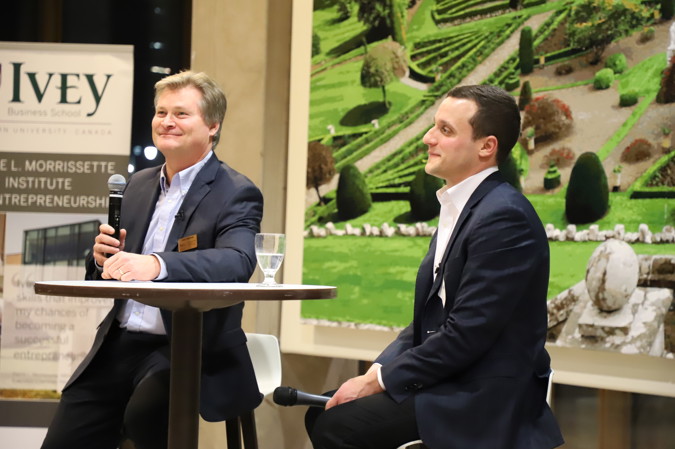 The Graduate-level Competition included nine teams representing Iowa State University, McGill University, University of Arkansas, University of Louisville, University of Oregon, and Western University.
The two-day competition at the Ivey Business School included workshops by Albert Behr of Behr Technologies Inc., as well as a fireside chat between David Simpson, MBA '88 and Adam Noyek, HBA '10 of MedReleaf Canada (pictured).