Jason Swit, HBA '11, and co-founder of nuAI, likes to keep his cards close to his chest.
Visit nuAI.ca website, and you will be greeted by a simple message, "Focused on delivering results. Pardon the lack of marketing."
For the past two years, Swit and his partner have been working on a startup idea that could bridge a multi-trillion-dollar problem plaguing companies around the world.
Today, big data and artificial intelligence are two important forces driving business innovation. However, they are often caricatured as magical solutions akin to "with science." But the magic doesn't work as seamlessly as one would think, and the real potential of big data and AI computing, is often restricted by the facts on the ground.
The world is a messy place, and that is reflected in much of the existing data.
"A lot of companies want to adopt AI, but they are struggling. They're struggling because their data is so messy that they can't use it," said Swit.
In 2016, IBM estimated that poor quality data costs companies over $3 trillion in the U.S. alone.
Swit's venture, nuAI, is looking to automate the data preparation process with the help of sophisticated artificial intelligence, thereby bridging the gap between big data and solutions.
To understand nuAI, imagine sorting a variety of bills or receipts. Each store, hotel and restaurant, uses a different setup to display the relevant information. The human mind can understand these layouts and take in the information from each format, but most AI systems would require the information to be cleaned and structured to absorb.
Today, data scientists are often left spending hours cleaning and preparing data for consumption. By automating the repetitive functions, nuAI allows data scientists to focus on delivering a great product; and that can only be good news for the technology.
Preparing the world for big data
Swit's partner had a breakthrough in the 1970's when he discovered the inefficiencies in the foundation of artificial intelligence. The manual tweaking of data and models presented a major roadblock, a problem that is amplified today with the sheer volume of data to be cleaned. After 5 years of R&D, he finished developing his initial model.

With over 45 years of experience, across Europe and North America, on both R&D and enterprise projects, he was able to constantly evolve the engine with the most up-to-date research, while waiting for computing power capable of executing the next generation of AI.
As the technology caught up, he also found a business partner in Swit; someone who shared the same passion for neuroscience, and  AI. After working on the product together for close to a year, the two co-founders incorporated nuAI in March 2019.

Still, any discussion on artificial intelligence seems like science fiction to most listeners, and it's hard to separate facts from good marketing.

According to Swit, most of the companies in the field are still in lab-phase, and focused on narrow AI. With nuAI, Swit's team has developed a system that can manage multiple things at the same time.
Swit knows that they have something new and ahead of the curve, but he is wary about revealing too much just yet.
That secrecy often opens questions regarding the technology and its true functionality. Part of the problem for Swit is the lack of protection provided by traditional patents. "AI is math, and you can't patent math," said Swit.
It has made the task of raising funding even more challenging as well.
How do you raise money in a skeptical industry, where you don't want to share what you have, and Investors don't want to invest until they see it working? They want to see projects working, or have the code released to be heavily vetted by their tech specialist.
Swit brought this concern to the New Venture Creation course at Ivey with Professor Larry Plummer, and received helpful feedback from the class. One of the key pieces of advice was to protect the equity and ownership behind the technology, building the technology through the help of other programs and partnerships.
Since then, nuAI has become part of the IBM Tech Accelerator, and an IBM business partner. nuAI is also NVIDIA Inception Program member, and part of the ventureLAB accelerator in Markham, ON.
IBM invested in-kind $120,000 in hardware, which allowed Swit and the team to start working on the nucleus (or engine) of nuAI on a dedicated IBM bare-metal server.
They are currently working on a number of projects as a means to test nuAI, and help provide additional funding for further development.
Later this year, nuAI's capabilities will be on show at an intimate gathering of IBM executives.
Together with IBM, Swit is also aiming to present nuAI at the IBM Global Think Conference in San Francisco, next May. Fair to say that the team have an exciting few months ahead.
The road to entrepreneurship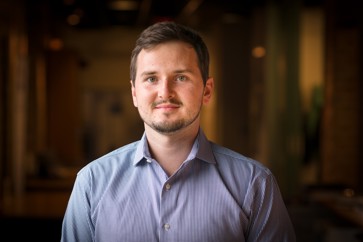 A former Western Mustang Hockey Player, Swit has had a storied career that has shaped his love for entrepreneurship, and technology.
His passion for technology started very early, from taking apart computers and figuring out how everything worked.
After completing his HBA in the accounting stream, Swit joined Ernst and Young, and was part of the EY Entrepreneur of the Year committee. He worked with Scott Hill, MBA '02 and his Hockey Night in Canada's Play-On! Program, organizing street hockey tournaments across the country.
Later on, during a stint with IT research and advisory company, Info-Tech Research Group (founded by Joel McLean, HBA '95), Swit's passion for technology was reignited.
He would later move onto working with a startup named ExpertFile at the MaRS Discovery District. While describing himself as an entrepreneur-at-heart, Swit really enjoyed and embraced the hands-on experience at ExpertFile.
With starting a family came new changes, and Swit transitioned once more, becoming a high school business teacher. For him, this was a way of giving back to the community, and instilling his passion for business on his students.
That passion still runs deep, and has traced his journey from the ice rinks of Thompson Area, to the forefront of a world-changing technology.