Morrissette Institute for Entrepreneurship
2020 Ivey Business Plan Competitions
Teams from Western University, and Wilfrid Laurier University, took home top prizes at the 2020 Ivey Business Plan Competition on January 25, 2020.
Eighteen teams from across Canada, and the United States gathered at the Ivey Business School for the 22nd MBA, and 4th HBA editions of the Ivey Business Plan Competition on January 24-25, 2020. The two competitions had a combined prize pool of $45,000.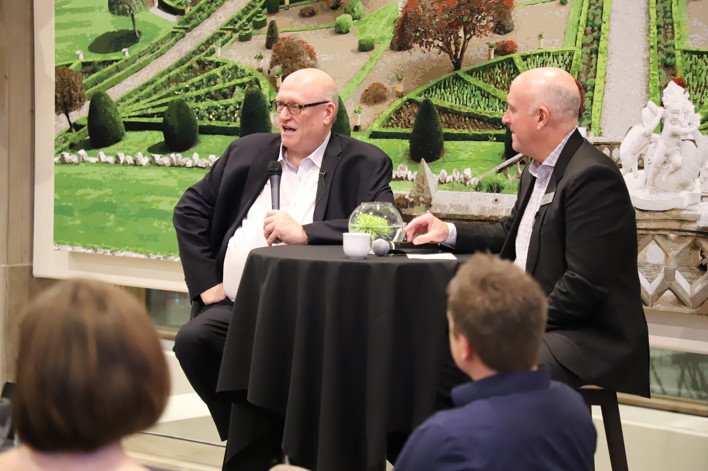 The two-day event included speaker sessions by Albert Behr, CEO of BehrTech, sharing strategies on how to succeed as Canadian entrepreneurs at the global stage, Bruce Lamb, HBA '85, President and Chief SEO Expert of Avalanche Search Marketing Inc., discussing Digital Marketing, and a fireside chat with Steve Suske, MBA '77, President and CEO of Suske Capital Inc, who shared stories and lessons from his entrepreneurial journey.
Ivey MBA Business Plan Competition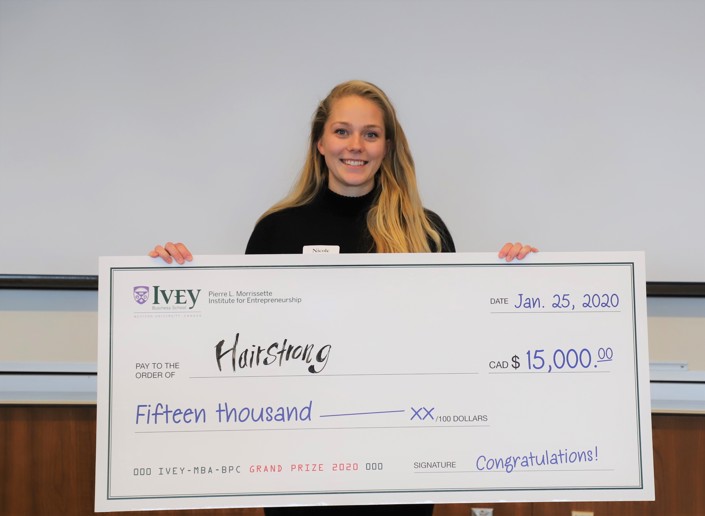 Team Hairstrong, from Western University took first place in the MBA Competition. Founder Nicole Baranowski, MSc '21 candidate, has created the world's first customizable hair band that specifically targets women in athletics. The product was developed through Western's Propel Entrepreneurship incubator.
Western University's EmBrace Medical Technologies, lead by Jakub Szmit, and Carolyn Berkmortel, took second place for their new spinal collar that reduces shopping, and material costs, while increasing the devices modularity.
A nail polish cosmetic that eliminates five of the most harmful chemicals in nail-polish, while maintaining the product's durability, took third place at the competition. The team comprised of Ivey MBA '20 candidates, Alexander Day, Julia Gordon, Logan McGinn, Hina Shahid, Peter Sigalos, and Shane Nightingale.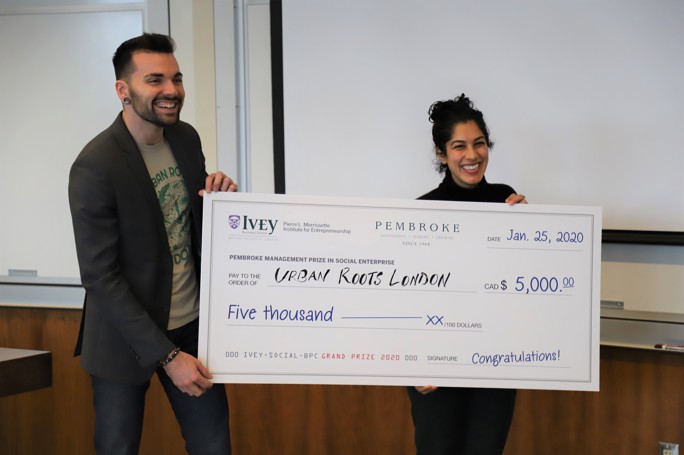 Additionally, the Pembroke Asset Management Prize in Social Enterprise was won by Team Urban Roots London, featuring Richie Bloomfield, HBA '14, MBA '20 candidate, and Mariam Waliji. Urban Roots is a non-profit that revitalizes underused land for agriculture by producing high-quality, organic vegetables and distributing the produce locally.
Ivey HBA Business Plan Competition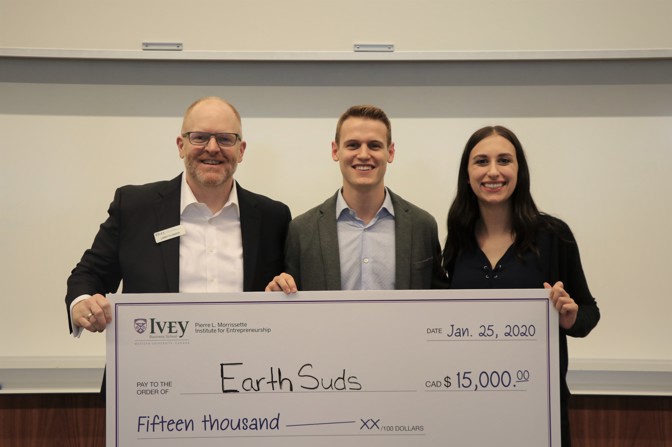 Team EarthSuds from Wilfrid Laurier University, took first place at the Ivey HBA Business Plan Competition. Represented at the competition by Daniel Moll and Marissa Vettoretti, EarthSuds is a sustainable shower products company offering alternatives to the plastic toiletry containers used in hotels.
Western University's Praxis Lifestyle took second place for their line of toothpaste products that incorporate vitamins, minerals, and supplements to boost energy or promote relaxation. The team is lead by Kamalpreet Minhas, and Shangbing Jiang.
Additionally, Team AfterSell, won third place at the competition with their software application that helps Shopify store owners improve the customer post purchase experience, and increase revenue generated per customer. The team consisted of Western students, Armon Shokravi, Joseph Ma, Fahd Shahzad, and Arveen Shokravi.
The competition included an expert panel of judges, consisting of serial entrepreneurs, investors, and experienced business analysts from entrepreneurship ecosystems.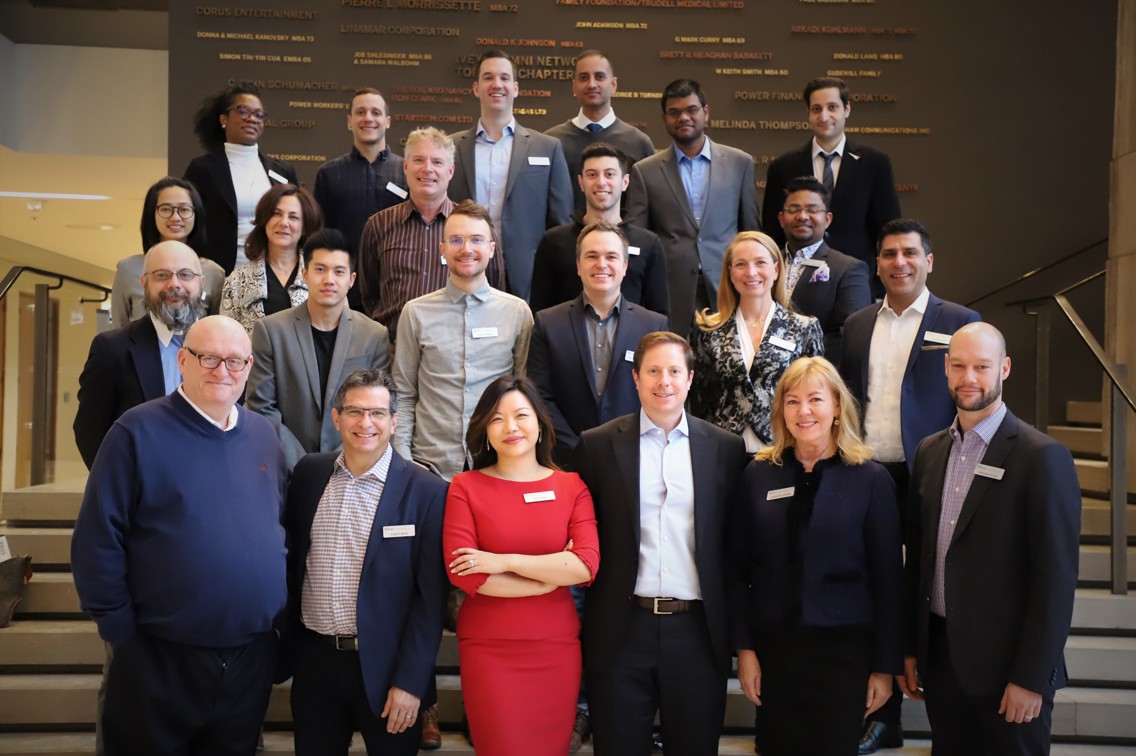 The judging panel included Zach Havens (Miistro.com), Ubong Umoh, MSc '16 (TechAlliance), Simone Sherriff (Federal Economic Development Agency for Southern Ontario), Shelley Fisher, HBA '81 (BDC), Morgan Rosenberg, HBA '15 (Supports Health), Larry Lau, MBA '18 (Eighty8 Ventures), Chanda Carr, HBA '94 (BMO Innovation Fund), Brogan Taylor (White Knight Capital Management), Bruce Lamb, HBA '85 (Avalanche Search Marketing Inc.), Adam Noyek, HBA '10 (LAVVAN), Adam Halim (Flipp), Albert Behr (BehrTech), Mark Mauleesan, MBA '16 (Mauleesan Inc. / MedSckool Reviews), Erik LaPointe, MBA '17 (Tidal Health Solutions), Jacoline Loewen (UBS - Wealth Management), Jane Wang, MBA '13 (Optimity), Manosij Majumdar, MBA '16 (Ivey Business School), Mike White, MBA '00 (IBK Capital Corp.), Quynh Vu, MBA '19 (TD Bank), Rajah Lehal, MBA '07 (DealPrep / Cobalt Lawyers), Shaan Bhanji, MBA '14 (FlyEasy Software), Steve Suske, MBA '77 (Suske Capital Inc.), Thomas Kalafatis, HBA '97, MBA '02 (KalNes Capital Partners), and Wolfgang Thieme (BehrTech).