Morrissette Institute for Entrepreneurship
Marlow - Making the ultimate reproductive health brand
What started last year as a capstone project in the New Venture Project, quickly grew into a full-time endeavour for six Ivey HBA students. Now they are seeking to change the face of reproductive health brands.
Simone Godbout, Nadia Ladak, Kiara Botha, Natalie Diezyn, Ethan Milne, and Harit Sohal entered HBA2 wanting to work on a sustainable, new venture idea. Changing the world for the better was their uniting factor.
After dabbling with the idea of cricket flour, their gaze quickly fell on menstrual products, tampons in particular, due its lack of innovation, and over reliance on single-use materials.
But what does a next generation tampon look like?
As they were researching consumer struggles around the use of tampons, the question of insertion anxiety and pain became prominent features. There were a litany of causes for this, including a customer's first time use, medical conditions, light flows, vaginal dryness, sexual assault trauma, or general discomfort.
One gynecologist recommended spitting on tampons as a helpful means of getting through that anxiety.
"That shock factor really grabbed our team," said Godbout. They took that idea through the design thinking process and came up with Marlow, the first-ever organic, lubricated tampon kit.
Understanding the problem
Talking tampons wasn't an easy discussion to get started. The whole conversation around menstrual products is characterized by the lack of conversation.
That's saying a lot - considering the billions of individuals experiencing menstruation around the world. 
As the team slowly started sharing more and more of their stories, they discovered similarities in their annoyances and problems with the industry.
These problems existed all the way down the chain, from outdated overly feminine packaging, and uncomfortable products, to more intangible features like trust and resonance with brands in the market. "There was this gap to fill for a more modern consumer brand, and a product that was more innovative to meet the needs of the users," said Godbout.
And in a world of business that is constantly trying to address consumer needs, concerns, and desires - why should menstrual products be any different?
The Marlow kit includes a combination of organic, plant-based lubricant reviewed by medical professionals, and organic cotton tampons. Their sleek bottle is engineered to perfectly coat the tampon in lubricant with each dip. Together, this easy-to-use kit creates a smoother tampon insertion experience.
Just the first step in establishing the ultimate reproductive health brand.
We started Marlow after realizing that we were far from the only ones to experience anxiety, discomfort, or even pain when inserting tampons. We became aware of the overly-feminine branding in the menstrual industry. Not only did these brands not resonate with us, they weren't inclusive of all menstruators. We noticed ourselves hiding tampons in our sleeves on the way to the washroom—rushing in and out of the tampon aisle, embarrassed at the thought of being seen. We found ourselves lining our underwear with toilet paper again after running out of product at exactly the wrong time. We realized we rarely had open conversations about our needs, wants, concerns, and questions relating to menstruation. Marlow Inc.
Journey to sustainability, diversity, and inclusion 
Sustainability has always been a priority in many of the founders' personal lives, and has been at the centre of Marlow from day one.
Tampons, while a necessary product for many, are by nature, quite wasteful. 
While their initial thought was to immediately create a more sustainable product, real world constraints made the task much more challenging. 
As a class II medical device, tampons are strictly regulated by Health Canada. From the manufacturing processes, to the design and materials, absorbency levels, packaging and more, tampons are required to follow strict regulations to ensure the safety of the product for consumers. In turn, these regulations make product innovation a slow process - particularly in the case of sustainability. 
"We've come to realize that sustainability doesn't have to be an all-at-once perfect approach," said Botha. "We can take small steps over time to continuously make our products and practices more sustainable."
Throughout their process, Marlow has continued to explore options for sustainable packaging, and prioritizing tampon and lubricant manufacturers that integrate sustainability into their products and supply chain.
"Our generation really cares about sustainability," said Botha.
It might be a long process to get there, but we're excited to continue learning how we, as a business, can minimize our impact on the planet.
In addition to environmental impacts, the team at Marlow also discovered the lack of focus on diversity and inclusion in the industry. As a result, they consciously designed their packaging, and are utilizing communication with all menstruators in mind.
"We recognize that it is not only women who menstruate, so we want to be conscious of and welcoming to all non-binary and transgender individuals. This is only the first step towards making the industry more inclusive," said Diezyn.
Team dynamics
If you asked anyone at Marlow, about how they have come this far; the answer would be 'team.'
"Every milestone we reached, we would get this burst of energy and we would all get super excited," said Botha, describing the elation of their discovery process.
The intensity around the New Venture Project, also assisted in understanding the team dynamics at play; helping them discover each other's strengths, weaknesses, and working styles, as well as how each member handled stress, disappointment, and success.
"We realized from the start that as a team, we had something. It was a slow process, but every time our idea was validated, more and more we realized that this might be something," said Botha.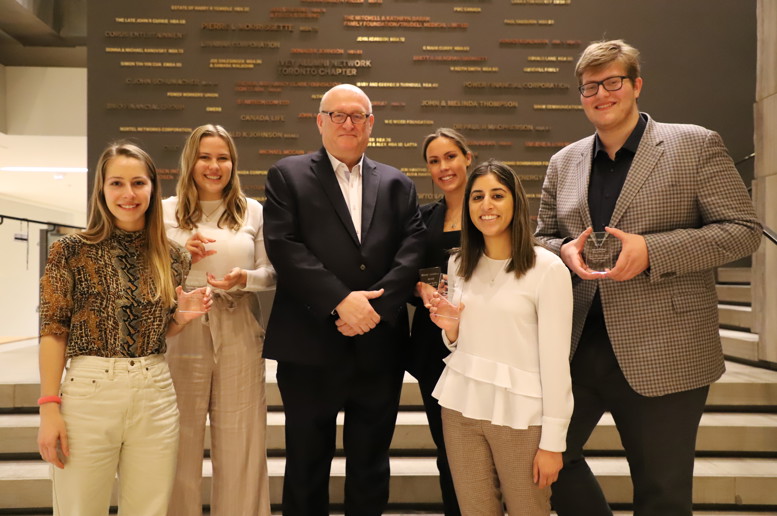 Their work and team dynamic didn't escape notice. Team Marlow (named Sulo at the time) went on to win the Stephen Suske New Venture Project Awards for the best HBA idea and pitch at the end of November's Final Presentations.
The award was a nice feather in their hat, but Botha and Godbout noted that they had already made up their minds - as a team - to launch Marlow post-Ivey.
Working through a pandemic
While their last semester was cut short by the Coronavirus pandemic, it gave the team an opportunity to ramp up their efforts with Marlow; connect with professionals in the field, and manufacturers to develop their final product as well as the distribution model.
Apart from time, the pandemic also gave them access to resources that would have been hard to come at any other time. "We hired a few team members, we got graphic creators, content creators, videographers, and engineers working on our team - and I think part of them being available, is also because of COVID-19," said Botha.
The pandemic even validated their business model, which will be an online subscription service. While the growth of Amazon has been significant in pushing customers online, the pandemic has provided another reason to not venture to a store.
Over the last three months, Marlow has delivered product samples to over 100 customers while simultaneously building a community of over 4700 followers through various social media platforms such as Instagram and TikTok. The team also releases weekly educational blog content on topics such as period poverty, menstruation in the media, and understanding menstruation itself.
Heading into fall, Godbout and Botha will be part of the Western Accelerator, where they will spend the next three months preparing for Marlow's launch at the end of the year. Four of the other original founders will serve in part-time or advisory roles.
Marlow will start the fall with an Indiegogo crowdfunding campaign, primarily to raise funds for marketing. They are also preparing to raise their first round of investor funding in October to cover manufacturing costs. 
Part of the growth curve for the team at Marlow, has included being more comfortable talking about Marlow with male investors. 
"We ask them to think about the natural instinct of closing your eyes when using contact lenses, or going down a slip and slide without enough water," said Sohal.
"Some of our advisors have really related to our product and our mission because they speak to their wives and daughters about it… they realize that 'oh this is a product that can really help someone I care about,'" said Ladak.
Slowly but surely, they are hoping to turn the tables on the taboo surrounding menstruation, highlighted by their belief that those who menstruate deserve better.