Western University scored double-wins at the graduate and undergraduate editions of the 2021 Ivey Business Plan Competition, which took place virtually on January 22, 2021.
Eighteen teams from across Canada, and the United States gathered via Zoom for the 23rd MBA, and 5th HBA editions of the Ivey Business Plan Competition. The two competitions included a combined prize pool of $45,000.
The 2021 Competition included student teams from the University of Arkansas, Michigan State University, Queen's University and Western University.
Undergraduate Competition
Mentum won the top prize of $15,000 at the Ivey HBA Business Plan Competition. Formed in May 2020, Mentum is a B2B Software-as-a-Service (SaaS) company that amalgamates delivery platforms and provides restaurants their own white-label digital ordering solution. Mentum is currently used in over 60 restaurants across Canada and has raised significant pre-seed capital. The team comprised of Ivey HBA candidates Joshua Gao, Kyle Dayton, Shikhar Maheshwari, Cole Moorcroft and Michael Lakkotrypis.
Mentum was also the winner of the Stephen Suske New Venture Project Award, which is awarded to the best new venture concept from the Ivey New Venture Project.
Neutral, a browser plugin that estimates the carbon footprint of Amazon purchases won 2nd place at the undergraduate event. The mixed team comprised of students from Western University, University of Waterloo, Queen's University, and the University of Pennsylvania that came together at Stanford's TreeHacks 2020 hackathon. Team Neutral was represented by Cem Torun, HBA '21 Candidate, Caitlyn Liu, HBA '22 Candidate, Marissa Liu, BSc '21, and Gloria Wu, HBA '21.
Neutral also won the Pembroke Asset Management Prize in Social Enterprise for the venture showcasing the greatest social impact.
Third-place was claimed by Promovere from Queen's University that a web-based software for businesses that aims to increase employee engagement, retention, and growth. The team consisted of Emily Di Monte, Erik Koning, Scott Gingrich, and Christian Soriano, HBA '22 Candidate.


Graduate Competition
Togle from Western University took first-place at the Ivey MBA Business Plan Competition with its volunteer tutoring platform, with a particular emphasis on helping companies deepen their connections with the communities they serve through volunteerism. Togle was represented by Ivey MBA '21 Candidates Noah McColl, Wasi Mesbahuddin, and Kartik Gandhi.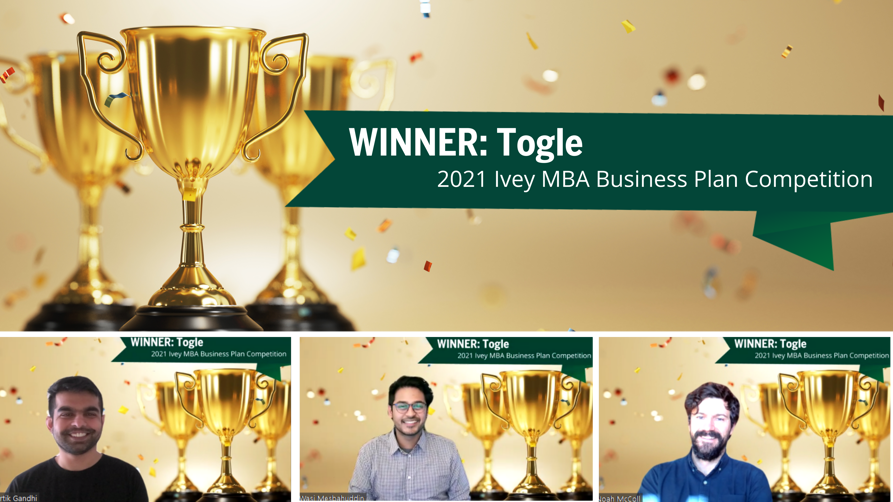 Second-place was secured by Chipeet, an ethnically inspired snack brand, which uses ethically sourced plantains from Columbia and Nigeria. With approximately 40% of plantains wasted due to their rapid ripening stage, Chipeet hopes to reduce waste, increase income for farmers, and the financial viability of their farms.
Chipeet was represented by MBA'21 candidates, Gillian McIver, Omar Syed Ali, Martin Tobenna Ugo, and Tosin Jaiyeola.
Recently launched food business, Yogels, took third-place with their healthy alternative to bagels. Yogels' spin on the centuries old delicacy involves the use of Greek yogurt, increasing protein content, while reducing calories and carbohydrates. Yogels is lead by Nathan Friesen and Cindy Van Sas.
The judging panel for both competitions included Jim Alyward, MBA'77 ( Aylward Management Group Inc.), Albert Behr (BehrTech), Shaan Bhanji, MBA '14 (FlyEasy Software), David Eason, MBA '99 (Aspyr Digital/YPO), Adam Halim (Flipp), Michel Hepp (BehrTech), Thomas Kalafatis, HBA '97, MBA '02 (KalNes Capital Partners), Bruce Lamb, HBA '85 (Avalanche Search Marketing Inc.), Tori Lamb, MBA'14 (GoodLife Fitness), Erik LaPointe, MBA '17 (Tidal Health Solutions), Larry Lau, MBA '18 (Eighty8 Ventures), Morgan Rosenberg, HBA '15 (Supports Health), Jacoline Loewen (UBS - Wealth Management), Mark Mauleesan, MBA '16 (Mauleesan Inc. / MedSckool Reviews), Rajah Lehal, MBA '07 (DealPrep / Cobalt Lawyers), Greg Ponesse ( Tap'd In Partners), Ilham Punjani (Western University), Shaloo Savla, HBA '06 (EverQuote), Elizabeth Suske, MBA '10 (Suske Capital Inc.), Steve Suske, MBA '77 (Suske Capital Inc.), Brogan Taylor (White Knight Capital Management), Bas Van Berkel, MBA '06 (Berq Capital Inc.), Mike White, MBA '00 (IBK Capital Corp.) and Gary Zimmerman (MaxMyInterest).