Morrissette Institute for Entrepreneurship
Mentum: Evolving the restaurant industry
Shanthal Perera
|
Feb 18, 2021
A year in isolation breeds new habits and traditions. With the closure of movie theatres, indoor dining, and international travel, there were very few options that provided a break from our day-to-day monotony.
Cue the revival of home delivery; one that not only added flavour to the new everything-from-home reality, but also offered a lifeline to a beleaguered restaurant industry.
For some people, revival is exactly what the industry needed. Not in the sense of dusting off an old tool from the past, but making something new; breathing in new life. 
Joshua Gao, HBA '21, is one of those people.
With just a few months left before graduating from the Ivey Business School, Gao will be stepping fulltime into the business he created at the height of the pandemic in 2020.
Together with his friends, Austin Jiang, Lawrence Pang, and Mogen Cheng, Gao launched Mentum, a digital ordering service that replaces the second dirtiest item at a restaurant: the menu.
Over the past year, Mentum has partnered with over 60 restaurants, providing a range of digital solutions such as virtual menus, customer health forms, analytics, and large physical ordering kiosks. They have raised over $200,000 and partnered with innovative restaurant brand, Ghost Kitchens, and have even begun extending their services to the United States.



Two out of 12
Despite Mentum's recent success, Gao is very realistic about the ingredients - timing, hard work and luck - that go into launching a startup. He reckons Mentum is his 12th venture. "Ten have failed fabulously," said Gao.
One of those two successes was a clothing brand, where Gao was able to leverage the star power of TikTok influencers to power the brand.
With Mentum, Gao knew he needed a big name to come on board.
While trying to make a connection at UberEats, Gao came across another, new, innovative venture that was looking to change the food industry, Ghost Kitchens.
Ghost Kitchens is a concept that brings together a variety of food brands to share resources and space in preparing and delivering food; think of a restaurant kitchen with cooks from the Cheese Factory, Cinnabon, and Quiznos rubbing shoulders (although not really). Founded by George Kottas, the concept has seen tremendous growth across North America during the pandemic.
Gao recalls visiting Ghost Kitchens with 20 restaurant brands working in a single location, taking orders through 50 different iPads. He knew there was a better solution to streamline this concept. When Ghost Kitchens wanted a QR code ordering system for its unmanned locations, Mentum was one of a handful of startups vying for the business.
We were fighting for the business. We were customizing our solution for them because they were in the spotlight of the restaurant industry. And we wanted to be up there too.
After a round of all-nighters, Mentum not only won over the contract, but also found an investor.

"As a startup, your best customers will become your most valuable investors," said Gao.
The partnership has also opened doors to the United States, with Ghost Kitchens expanding south of the border. Mentum's rapid rise has also led to partnerships with all the major food delivery services: DoorDash, UberEats, and Skip The Dishes.



A tale of two teams
Mentum is the perfect marriage of business and technical know-how.
While Gao wears the business hat, childhood friend and software engineer, Jiang, is the company's Chief Technology Officer. Pang is a published author in machine learning and is the Chief Data Officer. Cheng is actually a restaurant owner and rounds off Mentum's leadership team as the Chief Product Officer.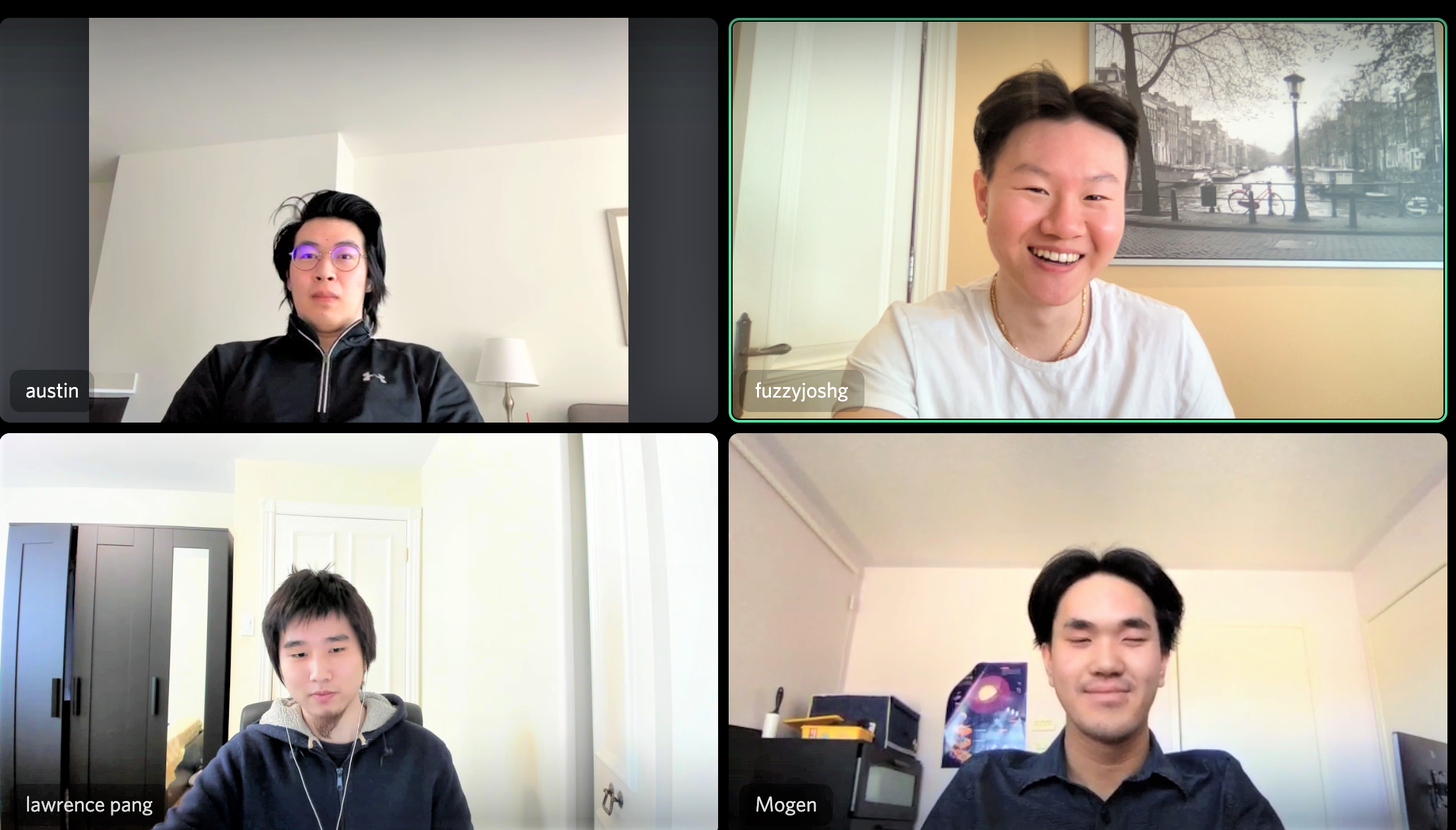 Having developed the idea throughout the spring and summer of 2020, Gao took the opportunity to carry Mentum into the New Venture Project (NVP) course, where students can develop and test venture ideas. Together with HBA '21 candidates Shikhar Maheshwari, Cole Moorcroft, Kyle Dayton, and Michael Lakkotrypis, they put Mentum through the wringer; analyzing its competitors, creating financial projections, developing a business plan, etc.
"How do we take the startup from its scrappy stage of day-by-day, to 'how are we going to survive for the next three, four years,'" said Gao.
Being the only business-centric co-founder, Gao really appreciated the insights of his NVP team, and they continue to play an advisory role with Mentum.
At the end of the course, Mentum won the Stephen Suske New Venture Project Award, which is awarded to the best new venture concept.
Mentum would also go on to win first place and $15,000 at the 2021 Ivey HBA Business Plan Competition in January 2021.


When food and tech collide
Even before the start of the pandemic, Gao, was fascinated by the restaurant business. While attending high school, Gao had set up a fully functioning food delivery service for fellow students, who were at the mercy of homemade lunches or the cafeteria.
I would get grade 12 students with driver's licenses and cars, to go to nearby restaurants and pick-up food for all the ninth graders.
Gao and his co-founders managed the whole line; from forming relationships with local restaurants, and hiring drivers, to delivering on customer satisfaction.
He estimates the business fulfilled over 500 deliveries that year.
For Gao, the real eye-opener to the future of the restaurant industry, came during his Cansbridge Fellowship Internship in Singapore and Shenzhen, China.
Across Asia, he discovered that WeChat is king.
WeChat is the definition of a mega app; a multipurpose messaging application that allows users to do everything, from texting, and ordering products, to processing payments, and running large video conferences. WeChat does it all.
For Gao, the idea of walking into a store, scanning a QR code and leaving with his order, really struck home. Why can't we do it in Canada?
An idea had taken root; one that would become Mentum during the first round of COVID-19 lockdowns in Canada.
Past grit, future hope
Gao's entrepreneurial inklings can be traced back to his parents, who share what he calls the typical immigrant story. His father was an actor, who came to Canada and had to find new ways to exercise his creative prowess. His passion and love for the craft manifested itself through special events he would direct for Chinese cultural festivals.
That rubbed off on Gao, who cites his father as his entrepreneurial inspiration.
Meanwhile, Gao's mother taught him to get things done. Even while pregnant, she worked three jobs and survived on four hours of sleep. She eventually set up her own insurance office and has enjoyed the labours of her hard work.
Every sprint of all-nighters Gao puts into getting Mentum over the next hurdle is a testament to the grit and determination he learned from her.
Plus, entrepreneurship is all about 'getting things done', and that notion has taken on a whole new meaning during the pandemic.
There has also been a rise in student startups. Gao can't recall so many inquiries  for feedback and advice from peers on how to start a business.
While many of Gao's peers are looking forward to getting back to how things were, he also notices a bubbling excitement amongst some, to change the way businesses and industries operate.
It is the same spirit that spurred on Gao and his co-founders at Mentum.
We want to take restaurants into the future… Restaurants have to go to the future.
To connect with Joshua Gao and Mentum, email jgao.hba2021@ivey.ca